May 06, 2020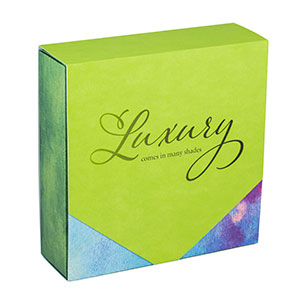 Sustainability Meets Luxury to Serve Prestige Retail Brands
BENNINGTON, N.H. — Monadnock Paper Mills, Inc., the oldest continuously operating paper mill in the U.S., and Spectrum Packaging Corporation, a specialty folding-carton package printer, have partnered to create an interactive sample kit highlighting myriad decorative techniques and paperboard fiber options for luxury brands and retailers.
Thanks to a new collaboration between two of North America's leading material and package-printing sustainability pioneers, brand owners, package designers, and high-end retailers have new options to produce packaging.  The new product packaging is more sustainable and luxurious, capable of communicating brand value, offering product integrity, and meeting customers' increasingly sophisticated sustainability expectations.
Designed and crafted by the packaging and printing specialists at Spectrum Packaging Corporation, the interactive sample kit brings the unboxing experience to a new level.  The liftaway tray holds nine cubes featuring a broad range of sustainably produced fiber-based substrates with fresh designs, inks, foils, embossing and UV treatments.
Crafted with the environment and brand integrity in mind, Monadnock's folding box board line comprises a broad range of sustainably produced fiber-based substrates from virgin and PCW recycled fiber on coated and uncoated surfaces, to Kona and cotton fiber.
Key material attributes include:
Forest Stewardship Council® Certified ensuring responsible use of forest resources (FSC® C018866)
Manufactured Carbon Neutral
Manufactured with 100% Renewable Electricity
ISO 14001 Environmental Management System
Up to 100 percent PCW recycled content and a blend of plant-based fiber options
Recyclable in curb-side mix paper recycle bin
"Spectrum's attention to detail and commitment to the environment makes them a perfect partner for luxury and lifestyle brands looking to separate their products from the competition," said Lisa Taylor, vice president of sales and marketing at Monadnock Paper Mills. "The combination of our renewable and recyclable folding box board line and their technical and engineering expertise unleashes new packaging possibilities for brand owners."
"This sample will put to rest the lingering misconceptions that high-end brand and retailer packaging with a premium look and feel are incompatible with social responsibility and sustainability," said Mark Mills, vice president of sales and marketing, Spectrum Packaging Corporation. "Yesterday's package and paperboard printing technical challenges are today's premium brand differentiators."
For more information on these and other papers made by Monadnock: info@mpm.com | 800.221.2159
For more information on Spectrum's full portfolio of services: mmills@thinkspc.com | 407.889.3100

About Monadnock Paper Mills
Monadnock Paper Mills (MPM) provides and custom engineers a diverse range of products including technical/specialty papers, and premium printing and packaging papers for leading brands worldwide. The company's ENVIPortfolio® of products features fiber-based solutions that replace plastic for uses such as gift cards and tags. Its technical papers are used in medical and pharmaceutical packaging, construction, interior design, manufacturing and other specialty applications and markets. Working as a true partner with its customers, Monadnock's technical expertise and agility result in products that lead the market in innovation and quality. With a passion for the environment and ingenuity, Monadnock turns ideas into reality.
About Spectrum Packaging Corporation
Spectrum Packaging Corporation, headquartered in Orlando, specializes in packaging and printing under the brand philosophy "thINK Different." Featuring a client roster of leading global and regional brands, they strive to be leaders in packaging and brand management by leveraging their expertise in engineering, design, construction, and manufacturing. In just the past three years, award-winning Spectrum Packaging Corporation has invested more than $5 million in the latest technology and equipment solutions to meet and exceed the needs of its growing client base. For more than two decades, the packaging specialists at Spectrum Packaging Corporation have been mastering their craft and building long-term partnerships with leading food, confectionary, pharmaceutical, wellness, beauty and personal care clients. Spectrum Packaging Corporation is committed to sustainable solutions and has earned Forest Stewardship Council Certification and Food Safety System Certification 22000.
Kona is a registered trademark of Arch Paper, LLC